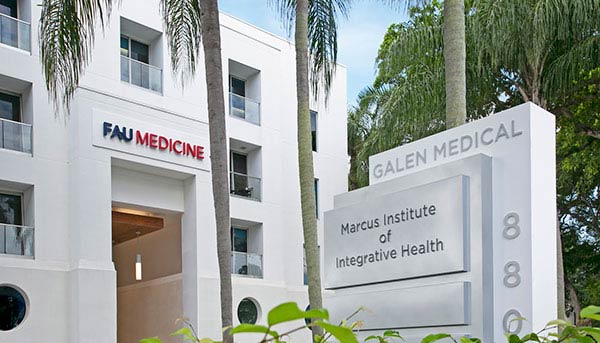 About Marcus Institute of Integrative Health
The Marcus Institute of Integrative Health at FAU Medicine combines a variety of evidence-based clinical services with the goal of meeting our patients' health care needs. Integrative health is a holistic, patient-focused approach to healthcare and wellness, including mental, emotional, functional, social and community aspects. Fundamentally, our physicians treat the whole person, by examining everything that makes up a patient's health, including factors that can lead to disease, affect nutrition, exercise and stress. Integrative healthcare enhances current medical practice and improves patient care by balancing conventional and complementary approaches in a coordinated way. Ultimately, our patients and physicians are partners in the healing process, and as a result, all factors that influence a particular patient's health and wellness are taken into consideration.
Your medical history and overall health can be influenced by many self-care routines in your life such as work-life balance, lifestyle and environment, connections with others, as well as your approach to physical activity, sleep, nutrition, and mental health, among others. By treating the whole person, our integrative health physicians delve into your unique experiences to develop a personalized plan that can impact your long-term health and well-being.
At the Marcus Institute of Integrative Health, our physicians provide an evidence-based, patient-centered approach to patient care which may include conventional, as well as non-pharmaceutical treatments. These complementary approaches to healthcare provide our physicians with the best methods for providing well-coordinated care between medical providers, particularly with our Primary Care physicians at the FAU Medicine practice.
Common integrative health services include osteopathic manipulation and massage, yoga, meditation, culinary medicine, and nutrition and dietary guidance. Patients may seek integrative health services for conditions such as back, neck, or joint pain, arthritis, anxiety, cholesterol & heart disease, head or chest colds, other musculoskeletal issues, headaches and migraines, insomnia, cognitive health and the maintenance of memory, for example. Patients who seek an Integrative health physician tend to experience difficult to treat conditions and have tried conventional treatments with little or no success of long-term improvement.
Key Principles of Integrative Health
Patient and practitioner are partners in the healing process.
Emphasis is on treating the whole person to facilitate overall health and wellness
Physicians use evidence-based complementary approaches to provide well-coordinated care between medical providers
Delving into patients' self-care routines facilitates a balanced treatment and prevention plan
For more information, visit:
Complementary, Alternative, or Integrative Health: What's In a Name? | NCCIH (nih.gov)
Andrew Weil, M.D. | DrWeil.com | Integrative Medicine & Healthy Living