Integrative Health Physician Services
The Marcus Institute of Integrative Health offers a variety of physician services that focus on the personalized needs of our patients through the enhancement of chronic disease management through preventive care and lifestyle interventions for wellness. Current offerings include osteopathic manipulative therapy, functional neurosurgery, cognitive health, culinary medicine consultations, and nutrition counseling.
Functional Neurosurgery
Chronic neurological disorders that interrupt a person's day-to-day function or abilities. There are a variety of illnesses that fall under this term, including chronic pain, movement disorders, neurodevelopmental disorders, and dementia.
Osteopathic Manipulative Therapy (OMT)
OMT are hands-on techniques in which our physicians diagnose and treat somatic dysfunction or restriction in the musculoskeletal system to treat and prevent illness or injury. Learn more about Osteopathic Manipulative Therapy.
Integrative Cognitive Health
The Marcus Institute of Integrative Health uses a personalized and preventative approach to cognitive health and the maintenance of memory. Learn more about Integrative Cognitive Health.
Culinary Medicine
Culinary medicine is an emerging field of evidence-based medicine that employs a holistic and preventive approach to care. Learn more about Culinary Medicine.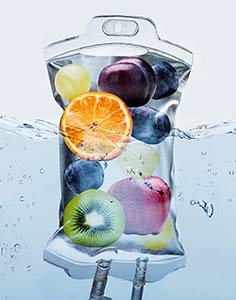 IV Therapy Treatment
Are you feeling tired, dehydrated or run down? IV Therapy can help you get the hydration, nutrients and vitamins your body needs to feel its best! At our clinic, we offer a range of personalized IV Therapy treatments to help you feel rejuvenated and refreshed. Call us today for a complimentary screening or use our patient portal to make an appointment.